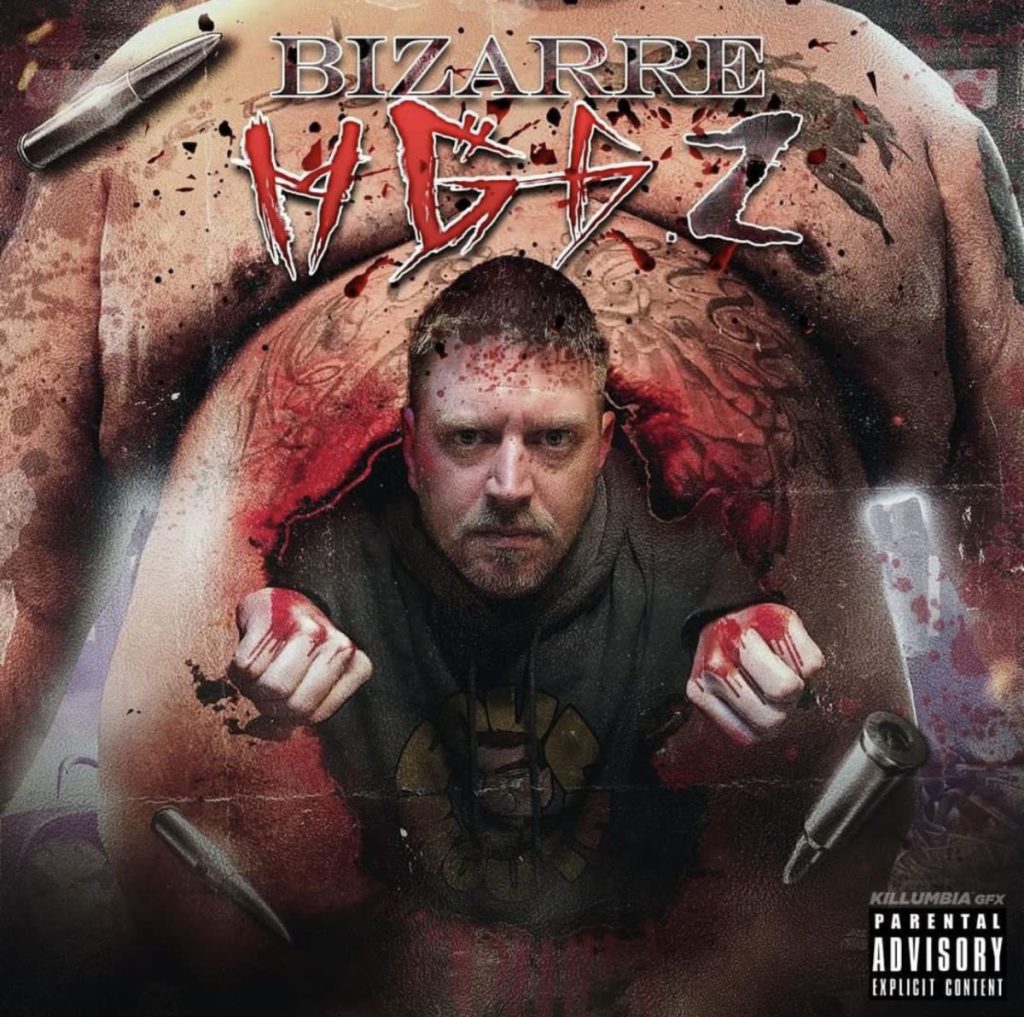 This is the 6th full-length album from Detroit emcee Bizarre. Emerging as an original member of the now defunct D12 led by the late Proof, he was also among the first in the crew to put out solo efforts with his 1998 debut EP Attack of the Weirdos being a hometown classic in my eyes. Fast forward 7 years later, Biz followed it up with a worthy full-length debut Hannicap Circus & has continued to put out music on his own since, with the last time we heard him being his 11th mixtape 18159 Stout during the first quarter of the year. But to commemorate the 1-year anniversary of the Foul Mouth-produced He Got a Gun last weekend, they're reuniting for the sequel.
"Outlaw" delves into boom bap turf declaring himself as such. "Security" works in some more kicks & snares with a chilling loop talking about pulling up to the spot with bats & guns prior to "Doing Drive By's" gives off a more subdued boom bap tone so he can portray images of driving around spraying the gats prior to Rah Digga coming into the picture for "Eastern Market" hooking up these kicks & snares with some harmonious vocals hanging in the background to remind y'all that this is hip hop at it's purest.
Meanwhile, "Show in Phoenix" gives off a desponding feeling so the idiotic kid can tell everyone a crazy story that occurred in 2018 just before "3 Shooters" featuring Fat Ray & Piff James continues with a gully boom bap ballad firing shots at their opposition. "80 Shots" featuring J-Classic gives off an uncannier sound as both MCs display an fascinating back & forth chemistry with one another aggressively thirsting for blood, but then "Tube Socks" returns to the boom bap with a cloudier edge to it this time around figuring out why he even bothers at this point
"1-800-Suicide" is a rugged dedication to all the misfits & drug addicts out there leading into "Cafe Mahogany" featuring Boog Brown, Dango Forlaine & Nick Speed finds the 4 motown lyricists over a dreary boom bap beat talking about getting blowed at night. "Blow Your Head Off" featuring NEMS hooks up a grungy instrumental with some kicks & snares talking about shooting heads off bodies while "Checkmate" featuring RJ Payne is an organ/boom bap hybrid referring to themselves as the next greats.
Moving on from there, Sumpter" featuring Kain Cole gives off a jazzier vibe saying if you don't know, you really don't need to while "Piece of Shit" details his personality a bit over a boom bap beat with a catchy loop. The song "Show in Phoenix, Pt. 2" reuses the instrumental from the predecessor so Biz can expand on the story that he told earlier on the album while the penultimate track "Show Off" featuring Nature gives off a more colder sound as both of them boast on the lyrical end. The outro ties everything up with a gritty boom bap joint saying fuck a ghostwriter because he writes for the ghost.
I still maintain that He Got a Gun is on par with Attack of the Weirdos & Hannicap Circus as Bizarre's best solo efforts, but He Got a Gun 2 could be a tad bit better than the predecessor we got last summer. He & Foul continue to expand on the hardcore lyricism & boom bap production that made their previous album so great with every feature knocking out of the park as opposed to a couple missing the landing a year ago.
Score: 9/10