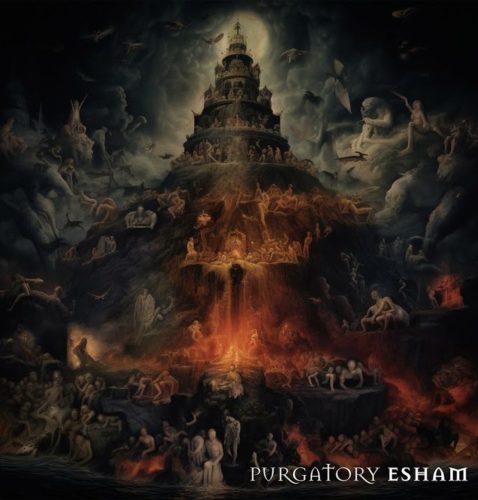 This is the 23rd full-length album from Detroit emcee/producer & Reel Life Productions founder Esham. Widely acknowledged as the godfather of horrorcore alongside his former Natas cohorts Mastamind & the late TNT, his run from 1989-2005 (particularly the albums KKKill the Fetus, Closed Casket & Doubelievengod?) would go on to lay out the groundwork for subsequent horrorcore acts such as the Insane Clown Posse & even Eminem. His output from Sacrificial Lambzonwards (essentially after his 2-album deal with Psychopathic Records from 02-05) has been a little hit or miss even though I love the single "S.S.M.D. (Stop Selling Me Drugs)" & Dichotomy respectively. Psyops however was creative detour for Esham as he self-produced the whole thing for the first time in a while conceptually revolving around what it was like for him living in Minneapolis during the George Floyd protests & a more rap rock inspired sound. But coming fresh off the 3-Headed Monster's full-length debut Obliteration last month, East Side Hoes And Money is looking to escape Purgatory. 
"Active Shooter" is a rap metal opener with the acid rap pioneer can discuss the issue of kids killing kids whereas the self-produced "Circle of Proud" goes into a more groovy trap direction talking about "white noise". More specifically: the far-right. "Circle of Wraith" shifts gears into rap metal territory again talking about sacrificing a goat, but then the first of 2 tracks featuring Jack Frost called "Circle of Avarice" has a rawer, drearier approach instrumentally to speak on greed. 
Jack makes his 2nd consecutive & final appearance on the album with "Circle of Gluttony" over a bloodcurdling beat to habitual greed just before "St. Detroit" gives off a more angelic flare musically produced by the Drunken Master to pay homage to the 313, the city where they'll eat motherfuckers for dinner. The title track embraces a more boom bap sound detailing the place we all fear leading into the acoustic heavy "Circle of Sloth" talking about all your pieces going back in the box when you're done with the game of life. 
"Bro" makes it clear that he don't fuck with no rats over some twinkling keys & hi-hats while "Watch Me Do My Dace" kinda has a quirky trap appeal instrumentally telling everyone to witness him do exactly that. "Big Motion" is a synthesizer/boom bap crossover provided by the homie Dead Heat talking about rappers out here being way too dry while the glamorous trap cut "Me" featuring Mastamind getting on the more wicket side of things. 
The dejecting piano chords & hi-hats on "El Sicarios" featuring Mastamind for the 2nd consecutive & final time comparing themselves to hitmen while "I Can't Believe" is a sample-based boom bap joint talking about how wack is wack is regardless of what the streaming stats are which I agree. The song "Woke Up Quick" gives more of a synth-trap feeling doing exactly that simply because he's from Motown while the atmospheric penultimate track "O.T.B. (Old Thing Back)" takes a trip down memory lane. "It's a Vibe" is a fun closer celebrating that he's still alive out here & that they gon' ride. 
Psyops being a step in the right direction for Esham as it was had me anticipating Purgatory a bit more than I've done so with some of his material within the last 15 years truthfully & he continues to move towards that trajectory a year & a half later. The political rap metal influences from that previous album makes it's way here dashed with boom bap & trap detours too so the Unholy can take us through uncovering the secrets lying beyond the intermediate state after physical death for expiatory purification.
Score: 7/10