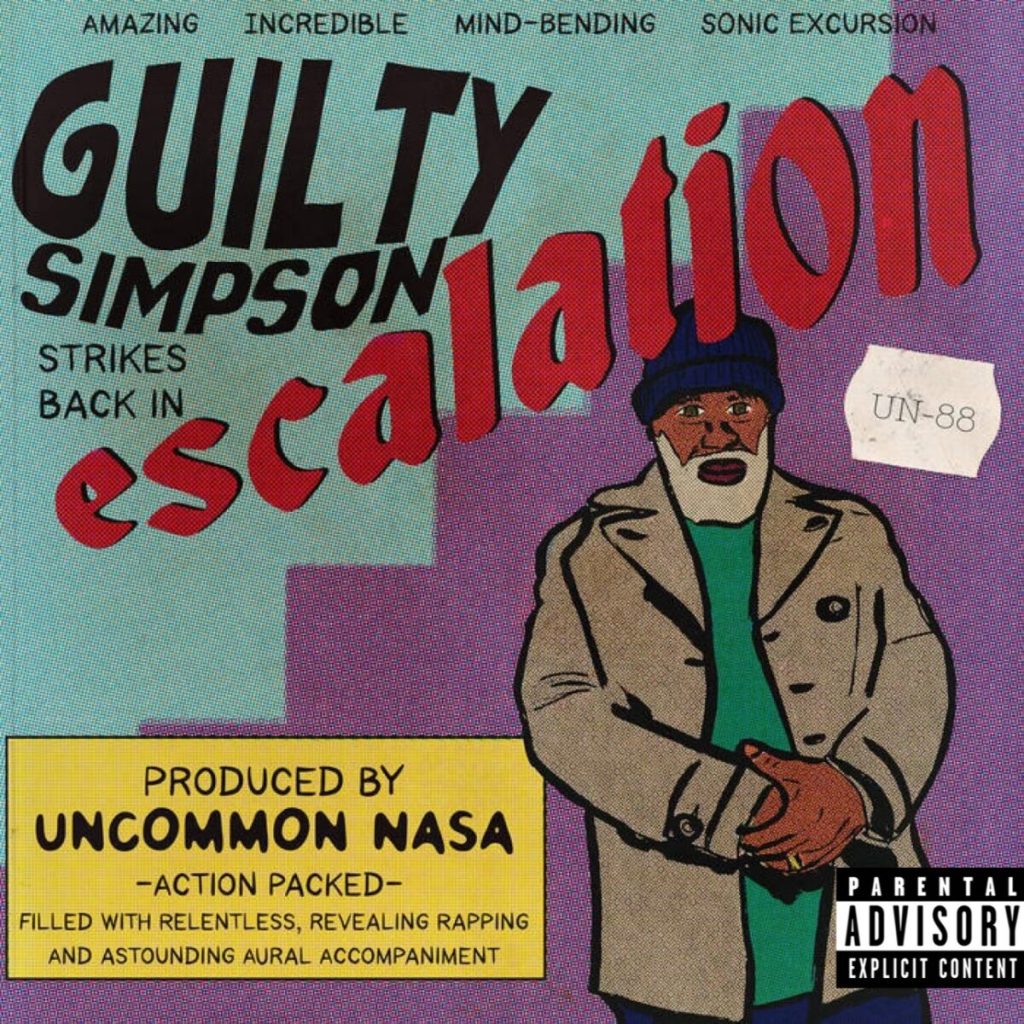 This is the 7th full-length LP from one of Detroit's greatest MCs: Guilty Simpson. Coming up as a member of the Almighty Dreadnaughtz collective & a frequent collaborator of the late J Dilla, it wasn't until late March of 2008 where he officially branched out on a solo career by having Stones Throw Records back his incredible full-length debut Ode to the Ghetto. He has since followed it up with a handful of equally great projects including his Madlib-produced sophomore album O.J. Simpson, the Apollo Brown-produced Dice Game; the Oh No-produced Simpson Tape & more recently the Gensu Dean-produced EGO just to name a few. But coming off the Guilt EP the previous summer, we're looking at an Escalation assisted by Staten Island producer Uncommon Nasa.
"Spillage" is a dusty synth-laced opener with Guilty talking about how it's like the realest shit ever to him when he's poolin' in a chill setup whereas "Fast Talk Maturity" takes a more cavernous approach instrumentally refusing to pit stop whilst in the middle of being in a paper race. "Smoker's Guilt" works in a vocal sample boasting that he's in the corner with the bud lit just before "The Devil" returns to the boom bap reminding everyone that Satan's a lie.
Meanwhile, Guillotine Crowns & Short Fuze join Guilt for "The Era That Doesn't Know" over mind-altering beat with some kicks & snares talking about how it's like a trip to his city with his verse planned leading into the grim "S.T.F.U. (Shut The Fuck Up)" telling everyone that revenge is a heavy load. "Easy" is a synth/boom bap crossover talking about how he makes it look simple as Hell, but then the groovy "Can't Trust Them" featuring Shortrock discussing people that he's unable to trust.
To start the final leg of the album, Quelle Chris has it's best feature on the morbidly produced "Stakeouts" getting in their storytelling bag vividly painting the imagery of a stakeout in place while "Ratz" gives off an electro influence to the beat talking about snitches. The woodwind/boom bap hybrid "Rumble" flexing that the formula was perfected in a matter of seconds & "Storm's Coming" rounds out the LP by thunderously cautioning that something bigger's coming on the horizon.
Now whatever it is that Guilt has for us in the pipeline has me highly anticipating it & Escalation shows a significant elevation in sound for this reviewer's hometown veteran. The production draws inspiration from Guilt's past collaborators Jaylib, Apollo Brown, Gensu Dean, Black Milk & Katalyst with the Detroit emcee himself pulling from his late friend Dilla also & even the late Sean Price of the Boot Camp Clik.
Score: 7/10