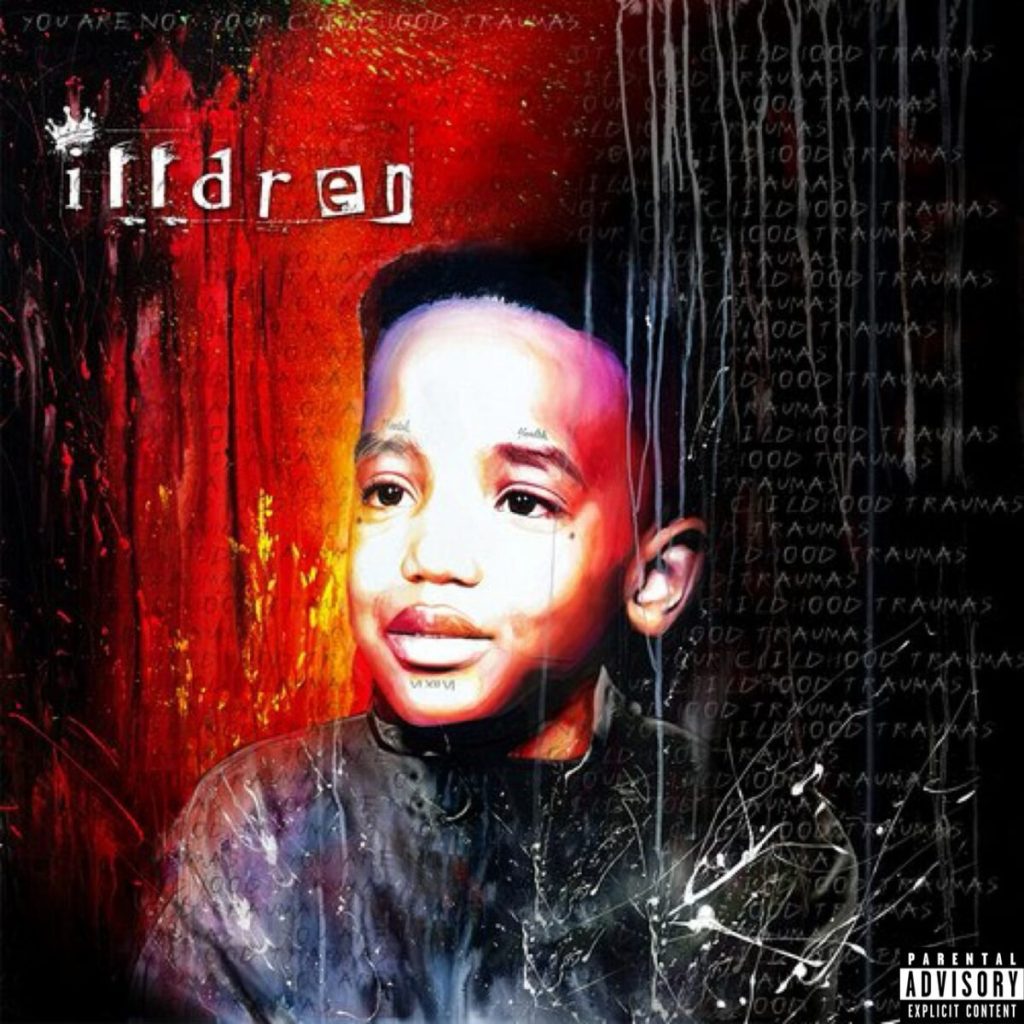 This is the 6th full-length album from Nebraska emcee/producer King Iso. Coming up as a protege of San Diego chopper Twisted Insane, he would only drop first 2 albums The Insanity Plea & Autophobia under Brainsick Muzik. Shortly after, they had a falling out which was squashed not too long ago & it prompted Iso to put out his next album DeMenTia independently in 2018. However, I was thrilled to see him sign with Strange Music the following spring & his debut on the Kansas City powerhouse World War Me has quickly become one of the label's best albums ever. Get Well Soon & 8 P.M. Med Call both went on to be well received too, so it makes since to have Iso cap off Strange's 2023 run by putting out iLLdren during the final weekend of the month.
After the "Welcome to iLLdren" intro, the first song "Feel" featuring Tech N9ne works in some twangy guitar passages & hi-hats talking about how he wasn't even a teen yet until he started puffing on that green whereas the title track talking about forming a society of outcasts over a dreary trap instrumental. "Stoned" blends a cinematic loop & hi-hats explaining that his father was never there for him, but then "CPS" featuring X-Raided gives off an eerie trap vibe talking about how murder was all they saw growing up.
"Voices" featuring Redro reflects the first time he could start hearing voices in his head over some hellish guitars & hi-hats just before "Midwest Baby" featuring Snake Lucci is an acoustic trap ballad ending the Baby Blues talking about growing up in their hometown of Omaha. "T.F.O.G. (Town Full Of Ghosts)" starts the Teen Trauma section of the album morbidly reps his set while the haunting trap hybrid "Young" talks about feeling like Pac.
Meanwhile, the suspenseful piano chords mixed with the hi-hats on "Teen Suicide" detailing the leading cause of death today leading into the grunge rap "Nightmare" praying that he'll wake up from the suffering one day. "Holes" featuring Taebo tha Truth finds the 2 taking it back & keeping it current at the same time over a rowdy trap beat while "Run Away" gives off a smoother vibe talking about running from his problems.
"P.T.P.A. (Party The Pain Away)" featuring Tinywiings goes into trillwave vibe for a fun club banger & Iso showing off plenty of charisma. Especially the "Face Off" reference during the first verse as much I still don't like The Rock's verse on there respectfully. "Love Me" ends the 2nd leg of the LP with a pillowy trap vibe telling y'all to prove it that you love him prior to the Adult Adversaries starting off to a heartfelt tribute to "My Kids".
Being born with Asperger's syndrome myself, hearing songs like "Way You Are" is absolutely inspiring hearing King Iso paying tribute to one of his children that's on the spectrum while the piano-trap "Step Daddy" pays homage to 2 individuals that he loves so much. "Attack of the Clones" featuring C-Mob has these killer synth-organs on top of hi-hats calling out biters & "Dear Mama" ends the album with a warm tribute to his mother that he reconciled with earlier this year.
Since 2019, there is no question in my mind that this dude has become the best artist on Strange Music other than Tech himself for the way he addresses topics that aren't covered too often in hip hop today like mental health. But in comparison to Get Well Soon, iLLdren is easily Iso's most introspective work to date. He takes us through chapters of his entire lifetime & beyond with some eclectic trap production & tight features near-flawlessly.
Score: 9/10