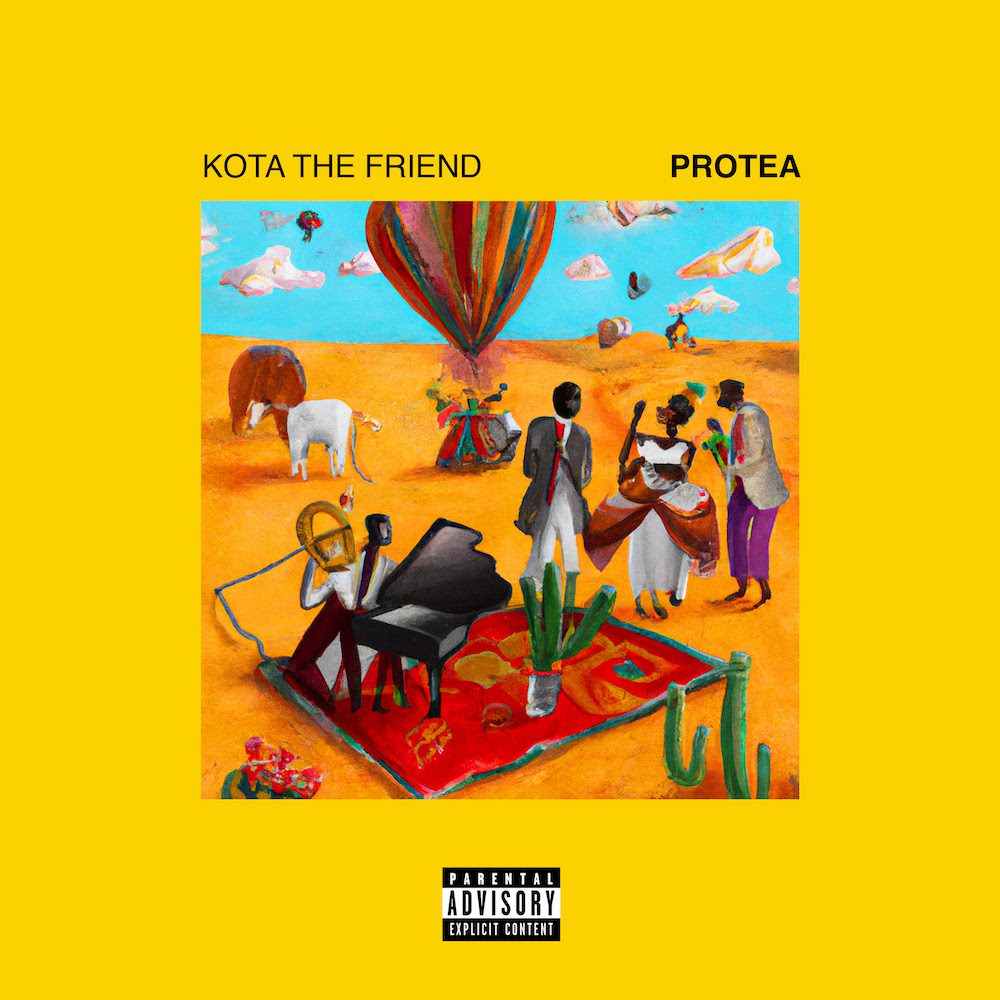 Kota the Friend sees the bigger picture in all things. Traversing previous lanes with a project that's symbolic of his constant evolution as an artist, the Brooklyn-bred multihyphenate drops off his fifth studio album, "PROTEA". Ever since dropping last week, the project has been continuous on our personal playlists.
PROTEA is a head-nodding ode to living in the moment and celebrating life. As Kota maps his journey to inner peace, he's reminded of the things that bring him fulfillment. For starters, the love he has for family, most notably his wife (titling the album after her favorite flower), is what centers it all. Unlike anything he's released previously, Kota harnesses his musical prowess for a project that sets the tone for a summery vibe. With clever storytelling and an effortless cool that he's retained as part of his identity, he balances a pristine yet experimental new sound while finding joy in everyday life.
On the inspiration behind PROTEA, Kota the Friend shares: "'PROTEA' is like a love letter expressing appreciation and admiration for the person that stood by me in my darkest hour. The protea is my wife's favorite flower and I wanted to create a piece of art specifically for her that stands the test of time. The artists that are featured on the album are people we listened to a lot when I was driving her to and from work. In that way she helped me curate the album. I want this album to serve as a reminder to give people that stand by you their flowers. We have to show appreciation for the people that love us and uplift us at our most vulnerable. 
"Barcelona" and the previously released "Hope You Heal" are natural products of the affirming elevation that Kota weaves into his messaging and music, serving as catalysts for PROTEA. The new album cements him as a stalwart rapper, producer, and songwriter in the industry whose sound has evolved over the years. To make this release even more special, all features on PROTEA are artists that Kota and his wife listened to when he used to drive her to work. And every collaboration on the album is an artist that was featured on their wedding playlist. The expansive body of work includes features from Wolftyla, Allen Stone, Hello O'Shay, Samm Henshaw, Zak Abel, Aloe Blacc, and Branxton Cook.
The sonic identity of PROTEA is inextricably linked to the human experience. "Nola II" will light up the dance floor, while "Red Lights" is a thumping celebration of the euphoric excitement that comes with pursuing romance. "Forget About It" grapples with sunny optimism, whereas "Super Rare" praises an attraction that is beyond reason, and the album track "Protea" tells the story of a forever love over dreamy synths.
Kota the Friend has rejuvenated the demand for meaningful music through his pioneering DIY approach. In other words, he's paving the way for a breakthrough 2023 on his own terms, and doesn't appear to be slowing down anytime soon.