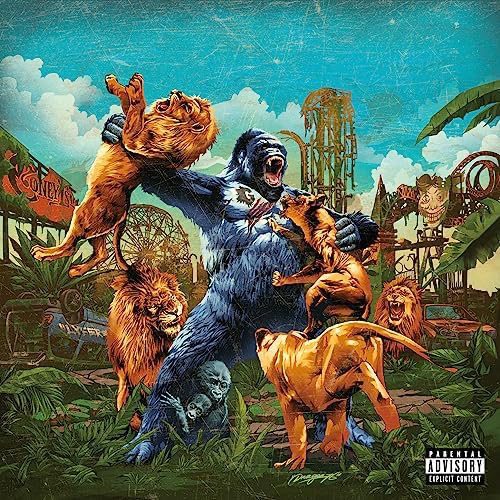 This is the 4th full-length album from New York emcee NEMS. Coming up in the battle rap circuit, he would go on to have a brief stint with Psycho+Logical-Records in the late 2000's before dropping the debut Prezident's Day under Creative Juices Music back in 2010. This was followed up almost 9 years later when he & JAZZSOON teamed up for the damn near flawless Gorilla Monsoon, but the follow-up Congo received more mixed results despite it's highlights like "Wow" & "Cousins". But after signing a joint deal with Paul Rosenberg's very own Goliath Records alongside distribution from Virgin Music earlier this summer, NEMS is returning to have Scram Jones fully produce Rise of the Silverback.
After the "Ascenscion" intro, the first song "Pussy" is a gully boom bap opener directed at all the bitch boys out there whereas the title track featuring Sheek Louch works in some Godzilla-esque as well as these kicks & snares talking about putting bullets in your mouth. "Drip" goes for a more cavernously shrilling boom bap route boasting how he has exactly that just before "Blicky" shifts gears into trap turf paying ode to the heat.
"Demon" featuring Gunplay has a more chaotic loop with some hi-hats talking about not giving a fuck, but then "Don't Ever Disrespect Me" featuring Ghostface Killah finds the 2 returning to the boom bap cautioning to never go against them. "Keep On" blends some pianos, kicks & snares looking to always move forward no matter what leading into "Hold That" turns back into trap territory getting raunchy lyrically.
To begin the last leg of the album, "Gorilla on Your Back" weaves a boom bal instrumental with a gospel sample into the fold calling out your dreams being gone because you kept chasing dragons while "No Face" featuring Fat Joe keeps the organs, kicks & snares in tact talking about keeping it litty. The penultimate track "Dirt" featuring Peedi Crakk sees the pair hop on top of a flute-tinged trap beat declaring to be dirty dickheads & NEMS ties everything up aptly by firing "Missiles" over an eerie boom bap instrumental.
Considering NEMS' popularity on TikTok almost reaching 1M followers on top of Eminem's manager giving him a record deal & having Scram Jones produce his major label debut, my expectations into it were EXTREMELY high. Lo & behold: Rise of the Silverback is up there with Gorilla Monsoonfor his finest body of work to day. Scram's production balances boom bap & trap in a way I felt Congo lacked, the feature performances are more consistent & the Coney Island emcee doesn't miss a step with the pen.
Score: 9/10