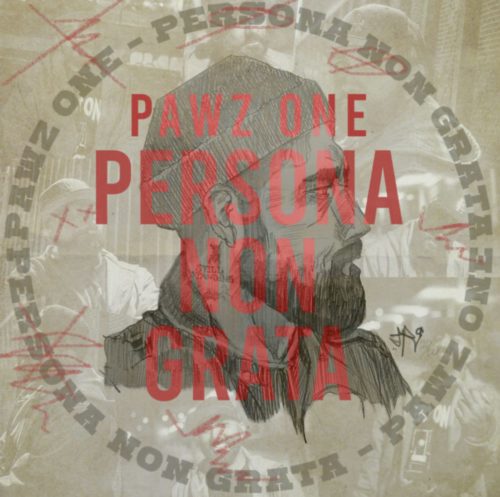 This is the 8th EP from Los Angeles underground mainstay Pawz One. Breaking out in 2014 off the strength of his full-length debut Face the Facts, he would go on to add a couple more albums & 7 EPs under his belt with the last we heard from him being Random Acts of Violence's eponymous debut EP last spring, but his returning solo solo in the form of Persona Non Grata ahead of him opening up for Cormega at Catch One in Los Angeles a couple months from now.
"Sepekku" is a gully boom bap opener giving all phony fans the finger saying he don't need them anyway whereas the "Out of Bounds" remix featuring MC Eiht & Ras Kass is superior to the original we heard on his last full-length Watch & Learn. "Welcome Home" has a summery boom bap quality talking about the streets having good intentions prior to the title track has a playful vibe with some kicks & snares saying respect ain't worth what it used to be.
Meanwhile, "Bad News" starts the final leg of the EP weaves in a twinkling boom bap beat so he can admit that he'd probably be afraid of himself too just before the "Cross Fire" remix keeps it dusty talking about how it be like the roads in the hood. The song "Good with That" gives off a richer groove speaking on learning to accept that things ain't always gonna be good while the penultimate track "Still" ruggedly says fuck you to all his critics & doubters. We then get treated to the original version of "Cross Fire" which is dope, but prefer the remix a bit more.
As somebody who's been a fan of Pawz since his debut dropped my junior year of high school, this EP is no question my favorite of his in a while & quite possibly the best body of work that he's put out in this current decade. The production stays grounded in the traditional boom bap sound as he makes a statement in regards to his surroundings & the music business altogether basically telling any 2-face snake to fuck off.
Score: 8/10