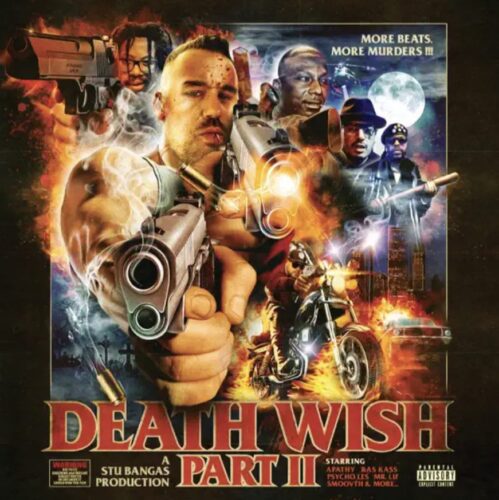 Boston underground producer Stu Bangas is back again for a sophomore full-length LP solely under his own name. For over the last 15 years, the dude's résumé is an ever-growing list of veterans ranging from members of the Army of the Pharaohs collective to the late Sean Price. But since 2019, he's been steadily grinding his ass off producing projects for the likes of Ill Bill & Recognize Ali. However with the 2-year anniversary of his official full-length debut Death Wish approaches next month, Stu's returning for a sequel.
After the intro, the first song "Inhumans" by Apathy couldn't have started off the album any better with it's to boom bap instrumental the lyrics that take everyone who's tuning in on a trip through the underground whereas "Sus" by Ras Kass works in some twinkling chimes as well as kicks & snares to talk about hating it when people act suspect. "Of Course It's Me" by Ty Farris happens to be synthesizer/boom bap crossover boasting that both of them be unstoppable leading into "Hooligan Music" by Da Flyy Hooligan hooks up a flute over kicks & snares providing a theme song for the hoodlums.
After the first of 2 interludes, "Y'all Clowns" by Celph Titled & Psycho Les finds the 2 getting in their hardcore bags over a quirky boom bap beat just before "Gracious" by SmooVth cooking up more synths with kicks & snares explaining that his state of mind is hurtful. "The Garden" by Timbo King keeps it rugged clarifying this that different taste but after another interlude, "Feeling Brolic" by Recognize Ali & Vangarde takes the symphonic boom bap route feeling like they have a extremely muscular physique. The final "Deity" by Raze the Ratchet prior to the outro ends the album heinously calls for him rappers to face scrutiny.
Almost 2 years later & Death Wish is still one of my favorite producer curated LPs that I've heard in recent memory, so that was more than enough to have me anticipate hearing what Stu was gonna do with the sequel & I enjoy it as much as the predecessor. Only a couple weak guest performances like last time, but the boom bap production still hits hard & a majority of those who take the mic rip it up.
Score: 8/10