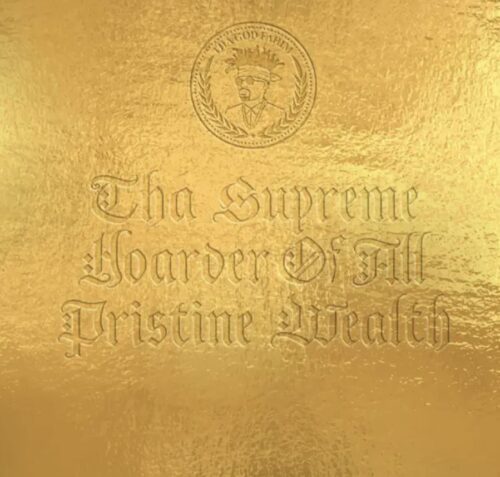 Atlanta emcee/producer & Tha Dump Gawd himself Tha God Fahim is back with the 20th full-length LP in his ever-growing discography. Starting as an affiliate of Griselda Records as well as being 1/3 of the Dump Gawds alongside Mach-Hommy & Your Old Droog, we also can't ignore the massive discography that he's managed to build for himself, some of the standouts include Breaking Through tha Van Allen Belts & Dump Assassins. But dude has been on a CRAZY ass EP run in 2023 with the standouts being the Camoflauge Monk-produced Dark Shogunn Assassin, the Nature Sounds-backed Iron Bull & the Nicholas Craven-produced Dump Gawd: Shot Clock King 4, the Oh No-produced Berserko & his last EP Dump Gawd: Rhyme Paysproduced by Mike Shabb. But 6 months later, Camoflauge Monk is behind brought in to help tell the story of Tha Supreme Hoarder of All Pristine Wealth.
The title track starts off the album is a drumless opener with some synthesizers talking about being his own worst critic whereas "Crisis" goes for a hypnotic groove instrumentally cautioning for haters to act right since it's duck season. "Big Money Talk" gives off a jazzier flare to the beat admitting that he doesn't want to get into the literature because they see inferno when he raises the temperature, but then "The Learning" triumphantly professes everything that he's learned up to this point.
"While You Hear" goes for a mellower approach sonically advising everyone that's tuning in to value their time leading into "Doubloons" being compared to as the fastest man alive when dumpin' over a cloudy instrumental. "Lone Warrior" works in these pianos chords comparing himself to exactly that just before "Manifestin'" returns to the boom bap talks about another day of being a living legend.
Approaching the final leg of the LP, the penultimate track "Dry Ice" blends these mellow synth leads with kicks & snares sounding like it could be played during an [adult swim] bumper discussing doing the same thing differently every single day prior to "Da Bottom" closing out the album on a twangier note talking about turning his pain into commas & living his life with nothing but honor.
It's been a while since we've last heard from the Dump Gawd since he was dumpin' like crazy at the beginning of the year, but it's great to see that Nature Sounds is helping him & the most underrated Heartbreakers member in Camoflauge Monk return like it was nothing because this is a strong full-length from Fahim. Monk's production is a bit versatile compared to some of his past material with the Dump Gawd & the latter sounds recharged on the mic.
Score: 8/10