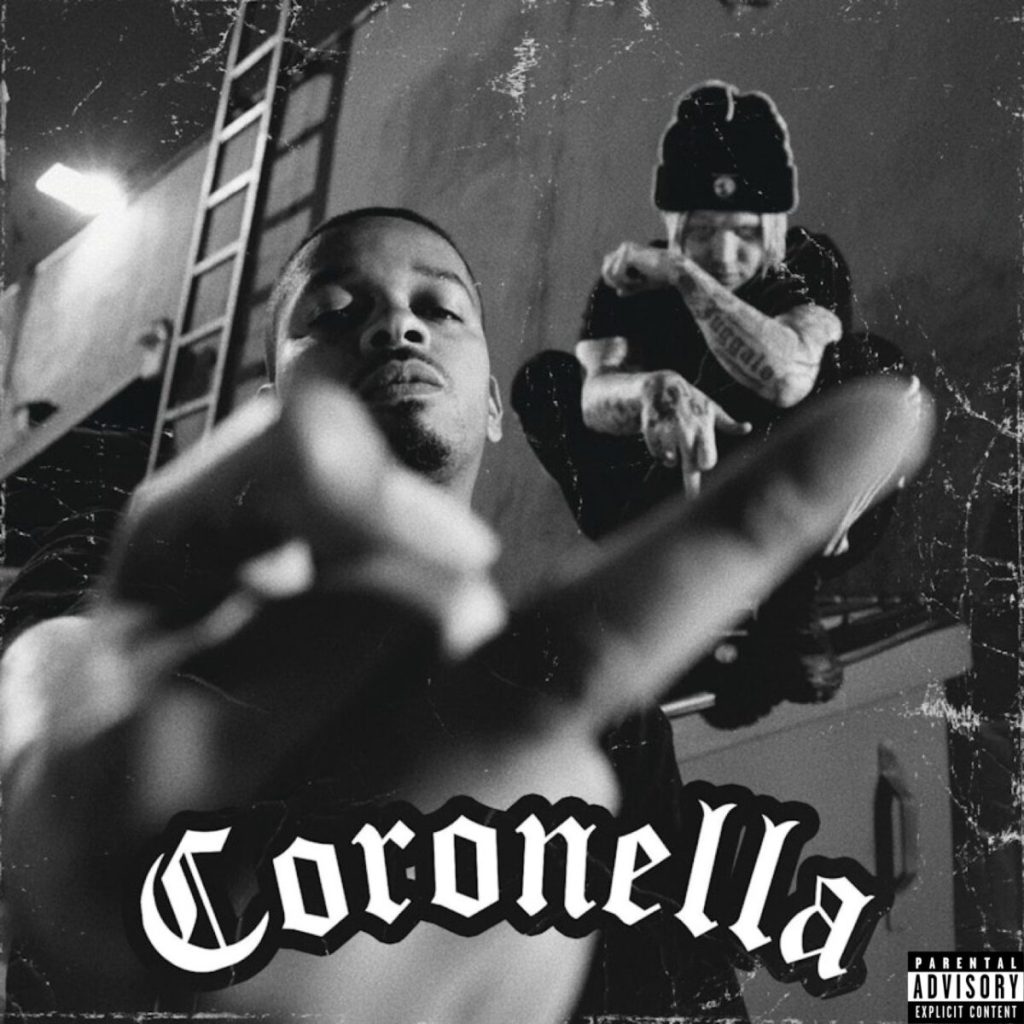 This is a brand new collaborative album between west coast hip hop artists Ouija Macc & Trizz. The latter hailing from Los Angeles as a Brotha Lunch Hung protégé briefly signing to Madesicc Muzicc with the other taking the underground wicked shit scene by storm since signing to Psychopathic Records in 2017 & forming his own subsidiary of the Insane Clown Posse's label that runs beneath the streets Chapter 17 Records over 2 years ago. Both of whom have crossed paths with each other a couple times in the past even though they've already made a name for themselves with stellar albums like Stalewind or Baseline Cavi. But with Ouija coming fresh off the 3-Headed Monster's sophomore effort Rampage last week, he & Trizz are teaming up to make Coronella quite possibly the best collab project in his whole discography ahead of his upcoming 4th solo LP Darcc Planet.
The intro sets it off with an uncanny trap instrumental talking about they been down before & remain 10 toes down in spite of it all whereas "Pedigree" works in some horns & hi-hats declaring this to be a robbery with their destiny being the death of them. "Dead Presidents" gives off a murkier atmosphere acknowledging all these bitches want & Ouija taking a shot at Donald Trump just before the cloudy trap banger "Round the Way" talking about you waiting in Hell for them.
"Smoke Dope" gives off a nocturnal edge to the beat of course providing an anthem for all the smokers out there leading into the cavernous "International" talking about both of them being known on a global scale at this point in their careers. "Vegan Caviar" works in these rattling hi-hats promising to fuck you up, but then "Outcast" is a spacious boom bap ballad dedicated to everyone out there listening who's been rejected by society.
Golden BSP on "Spokes" is ok despite the eerie trap production along with the subject matter of how this shit's a game & they're getting paid about it instead of playing about it while the cloudy "Black Card" calling out those who be frontin' that they hard when we all know they're not whatsoever. Brotha Lynch Hung gives one of the best feature performances throughout "The Opera" solemnly declaring that the homies will deal with any problem while "Too Many" has more of a traditional west coast sound to it talking about being surrounded by more than enough of the wrong people.
The song "Terror" featuring HEXXX mixes trap with g-funk sampling "Hi Powered" by RBX reminding everyone of their gangsta backgrounds & C17's first signing spitting as hard as Brotha Lynch did a couple joints ago the penultimate track "Spiral" featuring Ricky Hil gives off an airier tone instrumental with smoking weed & drinking tequila being what they're about. To finish Coronella, former Strange Music in-house producer Seven cooks up the psychedelic closer "I'm Outside" admitting they're feeling like losing their minds.
2 & a half years ago by now when Ouija Macc teamed up with Baby E on We Never Forgot, it quickly became my favorite collaborative project that the hatchet's biggest solo act had ever done even though it was a new sound for him. That being said: Ouija & Trizz have just dethroned that tape in favor of Coronella as his best collab effort. The guests are 50/50, but both MCs help bring the best out of one another as far as chemistry goes & the production is more eclectic from trap to boom bap & g-funk.
Score: 9/10