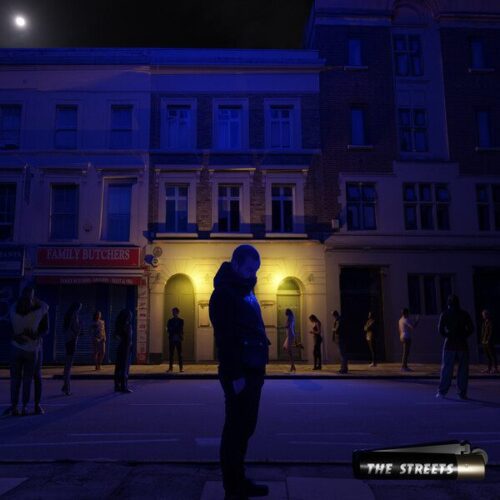 London rapper, singer/songwriter, musician & producer Mike Skinner a.k.a. The Streets has returned with his 6th full-length album & over a decade since his last one Computers & Blues. His debut Original Pirate Material is widely considered to be a landmark recording in the UK hip hop scene with the follow-up $1K Don't Come for Free also received acclaim, but his output under the Streets moniker since has been hit or miss. So when it was announced that he was returning after putting out the below average mixtape None of Us Are Getting Out of This Life Alive, I went into The Darker the Shadow the Brighter the Light a little optimistic.
"Too Much Yayo" is a boring house rap opener to start the LP asking why he never learns backed by a blobby electronic instrumental whereas "Money Isn't Everything" works in some synthesizers & hi-hats so Mike can talk about how wealth really isn't your whole world. "Walk of Shame" jangly tells everyone what exactly his daily commute happens to be leading into "Something to Hide" is literally recycled from the previous album that Mike had dropped a decade prior. It's not bad, just feels lazy to put it on another record.
However, "Shake Hands with Shadows" blends UK drill with cloud rap admitting that he doesn't see it as really anybody's business but his own before the hip house infused "Not a Good Idea" talking about the Devil himself being on his shoulders. "Bright Sunny Day" has a feel-good vibe to the beat looking forward to another positivity-filled day ahead, but then the title track confesses to feeling reincarnated since this disaster started ripping off Doop a little bit.
"Funny Dream" wonkily opens up about a dream that he had that made him change the way he feels while the sonically terrifying "Gonna Hurt When This Is Over" pointing out that everything's in slow motion for him personally. "Kick the Can" advises that the road to success is always under construction with a playful instrumental while the mediocre final single "Each Day Gives" mixes these strings & hi-hats reminding that every new day has no mistakes in it.
The song "Someone Else's Tune" talks about someone Mike's known for so long that he can rely on their memory over another hip house beat prior to the drum & bass inspired "Troubled Waters" provides a profound message to those who be in the struggle right now including Mike himself. "Good Old Daze" warmly ties up The Streets' decade plus return talking to those who think the future is not what it used to be.
If anyone thinks the None of Us Are Getting Out of This Life Alive tape is the worst thing that Mike's ever done, I'm pretty sure that The Darker the Shadow the Brighter the Light just took over that spot. The production's more centered around house/wonky music in contrast to the UK Garage sound that The Streets is known for, it's really Mike's performances on here that leave little to be desired which is a huge shame since how much I'll always love his first 2 albums.
Score: 4/10