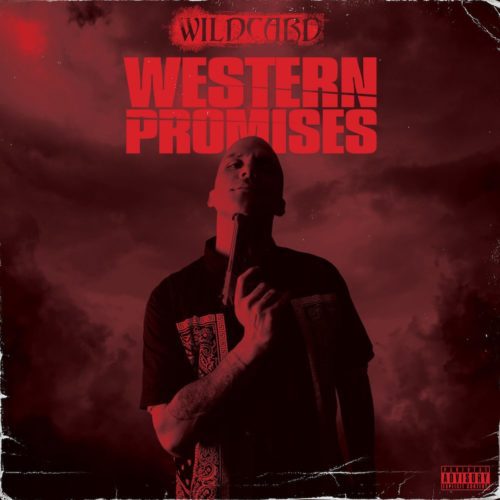 This is the 7th full-length album from California emcee Wildcard. Coming up in 2007 off the debut Dark Night of the Soul, he would go on to build up an impressive discography for himself from there whether it be The Odyssey & The War or even his last couple efforts Shadow Work & Change in Cabin Pressure. But given a couple of the singles off Western Promises, I went into it expecting it to be the strongest body of work in his catalog up to this point.
The title track is a rock-infused boom bap opener produced by Johnny Slash talking about being unable to stop this whereas "The Chaser" works in a sample on top of some kicks & snares detailing going from chasing dragons to chasing dreams. "The Rim" ruggedly confesses that he's been envious of others' success in the industry before, but then "Pink Diamonds" gives off a Middle Eastern boom bap flare instrumentally mixing insight commentary with humor in a tasteful manner.
"Cali Driver" featuring A-Wax hooks up an organ loop over more kicks & snares so both MCs can hope that the angels save their souls leading into C-Lance cooking up a more grueling sound for "Nightmares" pleading not to make a peep when you die like Freddy Krueger's victims have. "St. Chris" incorporates a boom bap instrumental with horn sample talking about leaving loved ones at home that is until the crooning "Party for the Dead" says it all & I can definitely see some underground heads having it in their Halloween playlists.
Meanwhile, "The Era" makes it clear what time period he's from with a sample-laced boom bap beat & clever wordplay just before the spirit-crushing "Place the Blame" getting more introspective on the lyrical side to pop off on all of his struggles personally. "Operator" featuring BARZ! gives me a more mafiosi feeling to the instrumental declaring themselves as exactly that prior to "Bewitched" featuring Savvy Red is a tenser cut talking about how he never meant to make her cry.
The song "Circles" looks back on never thinking that he would be using needles to get a buzz over a twangy boom bap beat from Stu Bangas while the penultimate track "Pick Your Battles" goes into a more piano-driven direction talking about selecting a specific issue of importance to focus on rather than trying to deal with many things at once. "Glass Moon Deluxe" featuring Krayzie Bone wraps up the album on a rap rock note talking about holding the ones they love tightly.
Over a decade into the game, Western Promises absolutely lived up to my expectations & I'd recommend it as a fantastic entry to Wildcard's catalog for anyone who may be new to him. Sonically, it's his most well-produced & you can hear that he sounds more inspired now that he's getting older with time passing us all by as fast as it already does by embracing inspiration & exploring his past.
Score: 8/10