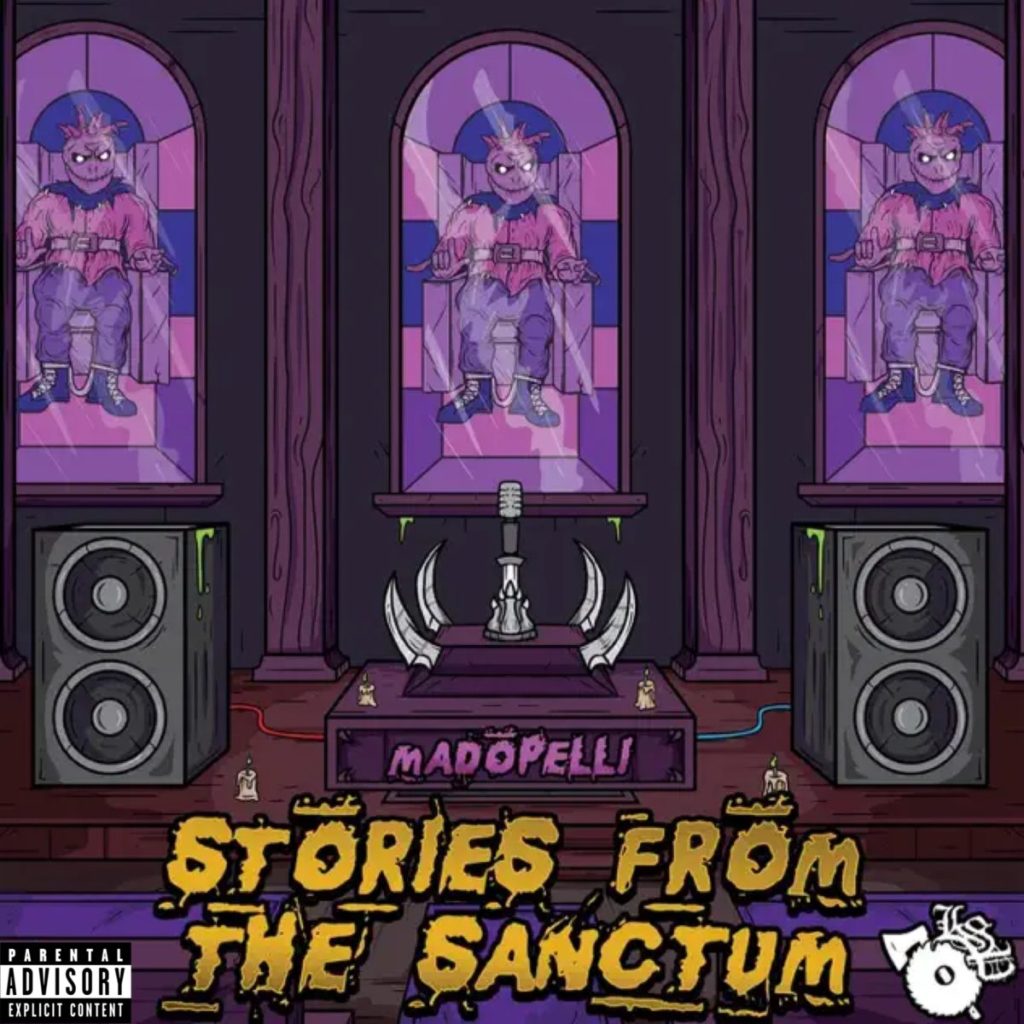 This is the 3rd full-length album from California City horrorcore duo Madopelli. Consisting of M.A.D. & Ant Dog, the pair have also gone on to drop a couple of mixtapes & EPs ever since forming in 2016. But their Lyrikal Snuff Productionz debut albeit sophomore effort from last fall No Bluffin' proved itself to be Madopelli's most refined work to date both lyrically & sonically to the point where they were instantly accepted within the Gorehop realm. However as they get ready to hit the road on the Shadow Snuff tour next week, they're returning to tell Stories from the Sanctum.
"Welcome to the Sanctum" really sets the tone of what's to come with some pianos & hi-hats greeting those who dare to enter the sacred place whereas "O Yea" takes a more synth-based route instrumentally talking about being gone with the top rolled down & a blunt in hand. "Cali Grown" has a funkier boom bap flare to it as they pay tribute to their west coast roots leading into "Been Straight" featuring Cody Manson jumping on top of hi-hats as well as sub-bass & twinkling keys getting on their California snuff shit.
Going forward from there, "They Don't Know" gives me a bit of a Memphis rap feel to the beat addressing those who don't know a goddamn thing about them whatsoever just before "Reflectionz" is a cannier groove asking how they got this far letting & go of the past. "Lost" is more guitar driven getting on some more depressive subject matter, but then "Dark Souls Creep in the Swamp" featuring former LSP alumni & Chapter 17 Records' newest signee Darby O'Trill goes into rap metal turf bringing it to you hardcore.
"Warning Ya" featuring the Beastmode Warriors goes into cavernous trap territory cautioning that they gon' find your ass if you slip up while "Pain is Real featuring J Dunja shifts gears by dabbling with a cloudier sound choosing to be something instead of nothing. "Bitch We Smoking" featuring C17/Psychopathic Records in-house producer Shaggytheairhead comes through with a euphoric weed smoking banger while "Look What You Made Me Do" fuses these strings & hi-hats blaming others for their own lives being fucked.
The Gorefather himself Scum reserves his guest verse for last on the minimal trap cut "Chances We Take" pleading not to let your opportunities pass you by while "Problem to the Game" returns to the trillwave by talking about hip hop being unsafe with them around. The final song "Smile Through the Pain" keeps it atmospheric surviving the hard times while the M.A.D. solo cut "Gutted When You See a Scrub" pondering why people feel the way they do over a chill boom bap instrumental. Ant Dog then ties up the album with his own solo joint "Sadistic Symphony" switching up into the trap lane declaring that black magic's in the wrong hands.
LSP went on one of their most prolific runs ever last year & No Bluffin' was really a fresh ass way to round it out, but Stories from the Sanctum really takes Madopelli's artistry to another level & those who have yet to give these guys a shot should be pretty impressed by what they did on their Gorehop sophomore effort. Only a couple features that underperformed, but the stories Ant Dog & M.A.D. tell are more personal than last time as they brought a whole new sound of their own to the underground wicked shit scene.
Score: 8/10