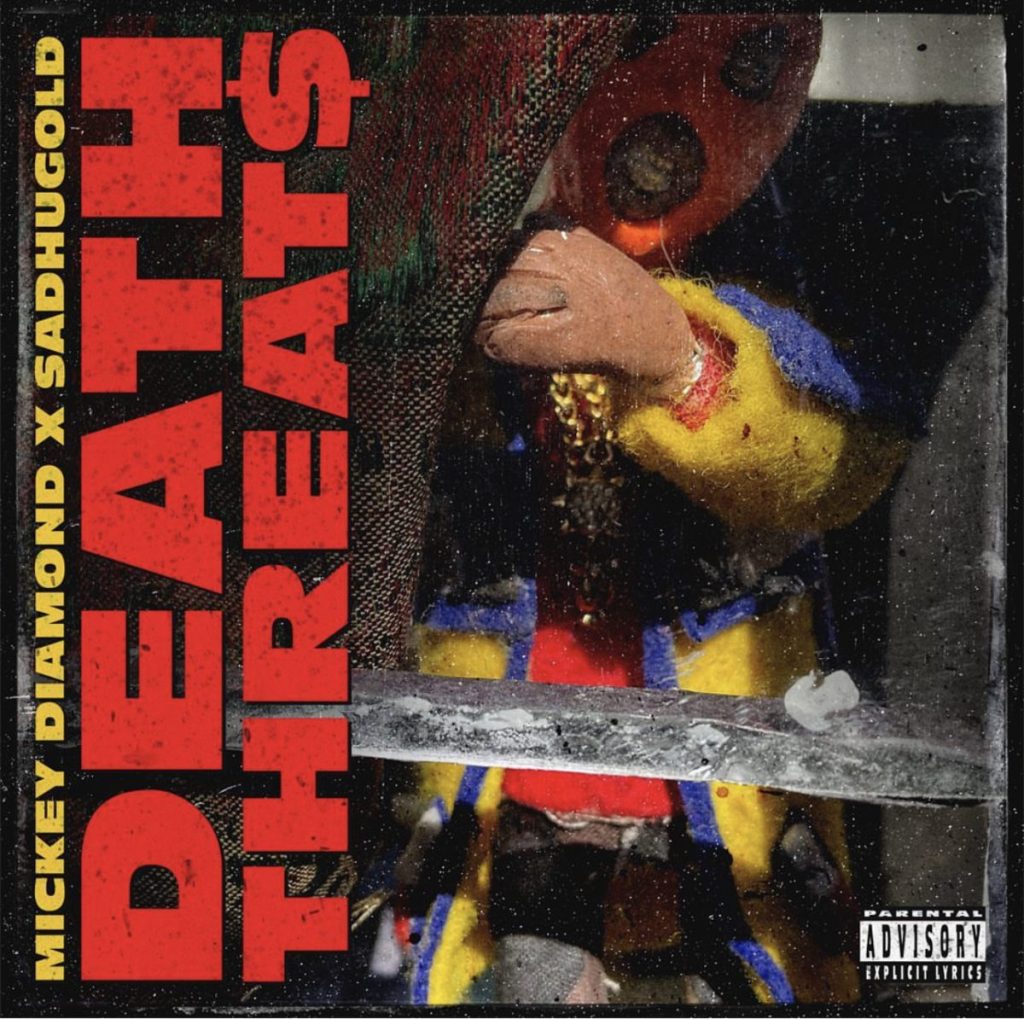 This is the 8th full-length album from Detroit emcee Mickey Diamond. Emerging at the beginning of 2020 off the strength of his debut EP Bangkok Dangerous, the dude has since gone on to turn quite a few heads in the underground by building up the impressive discography for himself with his previous 6 albums alongside 7 EPs & & a mixtape. Gucci Ghost & it's sequel produced by Big Ghost Ltd. on top of Ral Duke producing Oroku Saki in it's entirety all became his strongest bodies of work to date. But coming off the Smoke Face EP & the last full-length Nobody Bleeds Like Flair, the hot streak is going by enlisting Sadhugold behind the boards for Death Threat$.
"When a Stranger Calls" is an eerie boom bap opener to party like it's Mardi Gras whereas "2412" works in an hair-raising loop on top of some kicks & snares talking about kick pushing shit as if he's Lupe Fiasco cleverly enough. "Sleepers" instrumentally is reminiscent to RZA's production work in the 90's looking to make & break rules at the same time leading into alarm-ring "Pen Diesel" obviously referring to himself as Vin Diesel with the lyricism.
Things get drumless on "Tokyo Tea" stretching anyone who dares to fuck around with him, but then the piano sample throughout "Def Leppard" is really nice as he talks about those who choose to be disrespectful getting battered & bruised. "Prime Time Deon" hooks up a bare soul sample cautioning not to press your luck with him just before "Sir Smoke a Lot" gives off an unsettling groove to the beat talking about stepping aside to let him cook.
The penultimate song "Racer X" takes a hazier route sonically to bring on a samurai showdown & shortly after the "Disturbia" interlude, the closer "Death Threats" ends what I personally consider to be Mickey's best full-length album in 7 months (Oroku Saki was an EP mind you) by returning to the boom bap 1 last time with a groovy guitar passage wailing behind him asking if music nowadays is considered as art or simply something to buy.
Smoke Face EP & Nobody Bleeds Like Flair both had their highlights, but they didn't give me the same feeling that both Gucci Ghosts or Oroku Sakias consistent bodies of work. Death Threat$, I can say does. As a matter of fact: I might like it more than the Ral Duke EP by a hair. Sadhugold's production does more than a fine job at teetering between boom bap & drumless so Diamond can spit some of hardest bars that he's jotted down all year.
Score: 9/10