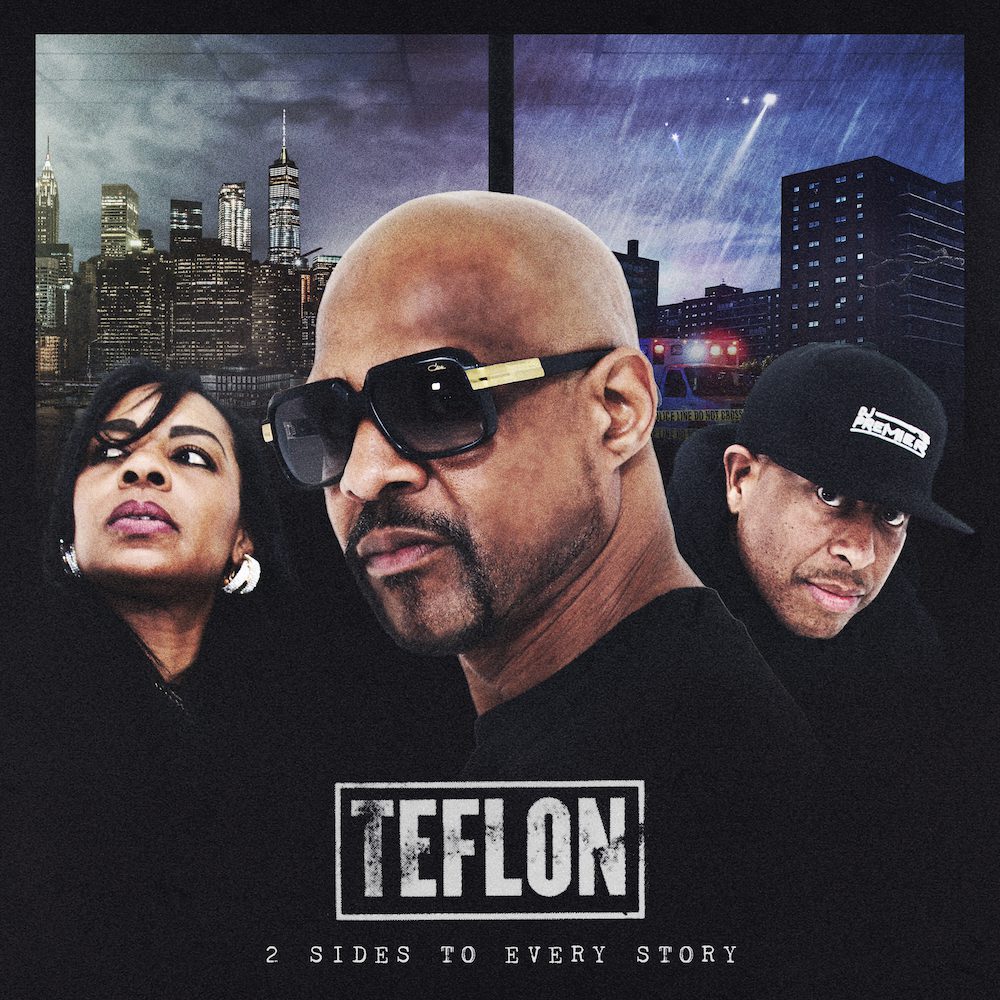 This is the sophomore album from Brownsville emcee Teflon. Coming up as an associate of M.O.P., he would also make his presence known during the summer of 1997 by dropping the full-length debut My Will to moderate reception & returning 9 years later in the form of the debut mixtape Bad News. However, it's been another 17 years & Tef's returning by offering 2 Sides to Every Story, choosing only 2 people behind the boards to handle the musical soundscapes.
After the "2 Sides" intro, the first song "Out the Gate" is a sample-infused boom bap opener produced by DJ Premier going ape shit from the start like it ain't nothing whereas "Contraband" works in some horns as well as kicks & snares talking about how you don't known the half of his crew. "4 tha Love" ruggedly discusses being driven by the fortune until "It Is What It Is" going into the piano boom bap direction thanks to Jazimoto advising not to say any more being all about the business.
"Life in the Feds" has a funkier groove to it detailing what it was like to be behind bars & after the "Some of the Fellas on the Block" interlude, "Know Our Way Around" featuring the Mash Out Posse pairs up Tef with Billy Danze & Lil' Fame over a more horn-heavy beat talking about how this is exactly it's going down. "No Fake Love" is a brass/boom bap crossover taking a shot at those fakin' the funk, but then "Baby" brings these piano chords into the fold to spaz out.
Benny the Butcher's verse on the track "Hostile Takeover" has to be my favorite feature on the album as he & Teflon returns to a dustier sound so both of them can get in their battle rap bag while the final song "The Thoro Side" after the "How It Was" skit features M.O.P. again 1 last time except the Preemo instrumental is so much dirtier than "Know Our Way Around". On top of that, the concept of them flexing their lyrical prowesses is such an exciting combination. The remix to "Life in the Feds" is more horn-centered compared to the original, but it's no better or worse by any means.
I've always heard about this guy through his longtime relationship with the marxman, but was a little hesitant going into 2 Sides of Every Story considering that I'm not the biggest My Will fan myself, but I must admit that his comeback effort here surpassed my expectations a bit & that I enjoyed it more than I thought I would. His performances here sound a lot better than they did the last time we heard him by himself 26 years ago in the midst of Premier & Jazimoto playing Ying & Yang on the production side of things although Preem's sticks out more to me personally.
Score: 7/10